Gang linked to `Blackie' for jury trial
THE eight men held in the Essequibo bank robbery in which the late notorious criminal Linden `Blackie' London was implicated are to stand trial by a judge and jury.
Seven have been charged with killing Police Corporal Richard Faikall in a robbery attack on the Anna Regina branch of the Guyana National Cooperative Bank in November 1997. The other faces trial only on the robbery charge.
Faikall was shot dead when he tried to foil the daylight robbery and the gang fled with cash from the bank and jewellery and other items they stole from customers and employees.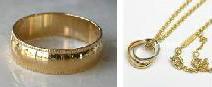 London, who was shot dead in a joint Police-Army operation last month was linked to the robbery, Police said.
The preliminary inquiry into the murder and robbery charges ended earlier this month before Magistrate Cecil Sullivan at the Anna Regina Magistrate's court.
To stand trial at the May-June assizes in Essequibo are Steve Ceasar, 34, of Pomeroon River; Toolsie Persaud, 65, of Chance, Mahaicony Creek; Patrick Gunraj, 40, of Gordon Table, Mahaicony; Maurice Texeira, 47, of Middle Road, La Penitence, Georgetown; Maniram Ramdular, 42, of Tuschen, East Bank Essequibo; Rabindranauth Singh, 33, of Patentia, West Bank Demerara and Nazim Mohamed, 36, of Vergenoegen, East Bank Essequibo.
Godfrey Smith, 45, of Adventure, Essequibo Coast, was discharged on the charge of murder but will have to stand trial for robbery under arms
Thursday, March 9, 2000