Five fishermen in two separate boats were hijacked minutes apart early Tuesday morning by three armed men who stole their boat engines and left them stranded on the Corentyne River.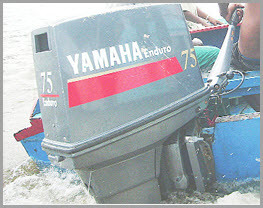 Yamaha engine
According to Cecil Ramcharran, 49, the captain of one boat, he along with two other fishermen went out in their vessel on Monday night to catch fish. He added that they had thrown out their seine at about 7 pm and then they all drifted off to sleep. At about midnight he told Stabroek News that three men came up to their boat and shook them awake. He at the time assumed it was the Suriname police. However the men, whom he said were armed with two shot guns and one pump action rifle, pointed the guns at them and ordered them to remove their 40 hp Yamaha engine. When one of the fishermen hesitated he was dealt a lash with a gun butt. The other fishermen were also beaten by the men and made to lie on the bottom of the boat. The men then warned that no one should get up from the bottom and they then drove off with the engine and gasoline leaving Ramcharran and his crew stranded in the river. Ramcharran stated that they started to drift and later on Tuesday morning they saw a boat and they waved to the captain who they begged to tow them into the Springlands stelling. He then went and made a report to the Springlands police station. He added that being a fisherman is his livelihood and that without the boat engine he can no longer work to maintain his family who he said have been through a lot for the year since their house was burnt a few months ago in a fire at Springlands.
Another fisherman related to this newspaper yesterday a similar ordeal. Devendra Kumar Jaigopaul, 26, of Number 79 Village, Corentyne stated that he and another fisherman, Ricky, also went fishing on Monday night on the Corentyne River. He added that about 12:30 am on Tuesday morning three armed men wearing raincoats came up to his boat and ordered them to lie on the floor of the boat. The men asked them whether they were Surinamese or Guyanese and they replied that they were Guyanese. They were then ordered to remove their boat engine which they did and place it into the thieves' boat. The attackers then helped themselves to drinking water on the fishermen's boat and relieved Jaigopaul of his watch and gold chain. The men also asked the fishermen about other boats that were working late the night. Jaigopaul said he told the men he did not know about the other boats. He added that every time he tried to look at the faces of the men the gun would be pointed in his face. The men, he said, stayed about half an hour in his boat before taking off with his engine. He added that he was able to see two more engines inside the men's boat along with his. He then used his cell phone to call his father for help. His father along with other men then rescued him and Ricky around 11 on Tuesday morning. He then went and made a report at the Springlands police station and the Number 66 fishery. He, too, won't be able to work until he gets another engine.
It is believed that the men were robbed by the same bandits. Corentyne fishermen have been plagued by bandits for many years now.