Non Pariel residents flee village
-- following deadly bandit attack
`When (the bandits) coming, they coming in groups of twenties and so on' – fleeing resident
By Shawnel Cudjoe
TERRIFIED residents of Section 'B' Non Pariel, East Coast Demerara and surrounding villages have been fleeing their homes since Tuesday's brutal bandit attack on the Appanna family, which left one dead and another seriously wounded.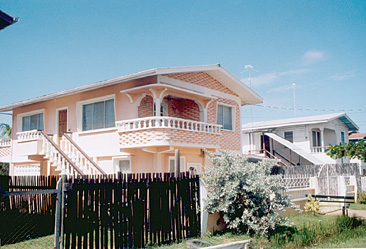 EMPTY: one of the several empty houses in Non Pariel since the Tuesday deadly attack on the Appanna family.

(Mike Norville photo)


Residents say they will only return to the village if the police put up an outpost in the area.

Strathspey - Friday, January 09, 2004 Coldingen -

Yesterday the Chronicle visited the village and found that many families were already gone and others were preparing to leave.

One resident who had already packed her belongings and was waiting for a truck, said they no longer felt secure. She stated that there is no protection from the criminal elements and they had toiled hard to build their houses.

Her family of five has been living in Non Pariel for the past eight years, but had never suffered at the hands of bandits.

The resident pointed out that the terror began Sunday night when other persons were robbed, but the deciding factor for them moving was the killing on Tuesday.

According to her, a vigilante group would be useless since the bandits usually attack armed and in great numbers.

"When they coming, they coming in groups of twenties and so on", the fearful woman said. For the time being, the family intends to rent a house somewhere else.

Another resident said that her family has been trying to get a place in Georgetown since the killing.

She said many residents feel the Tuesday morning attack by bandits on the Appanna family signalled the return of a crime wave on the East Coast.

According to the woman who has a family of nine, the incidents are occurring at quite an alarming rate. "This thing happening too steady now; is since Sunday night bandits targetting persons in this area".

She also noted that should the police open an outpost in the area, residents would feel more secure.

"Many nights, I does can't sleep because you always have to be alert", she said, adding that she usually keeps watch from a window. "People so afraid, that if a cat pass, they jumping".

However some others, although fearful have refused to move, since they have nowhere to go.

One such family is the Appanna's neighbour who also had a terrible experience at the hands of bandits.

On December 24, 2002 armed bandits robbed the Lall family and shot Mohabeer Lall dead.

His wife yesterday told the Chronicle that she is fearful and confused, since the bandits were also in her yard when bus owner Davechand Appanna was stabbed to death Tuesday morning.

"I have four children and I don't want to leave my house, this is not fair", the mother said. She further pointed out that her family went through many struggles to achieve what they have.

Mrs Lall said that Tuesday's killing was a startling reminder of her husband's death.

"When these things happen, I go through mental torture. I started to shiver when I hear that lady (Appanna's wife) scream," she said.

Mohabeer Lall was shot in the head in the presence of his children.

The `Canter' truck he was driving had just turned on to the bridge of his yard when he was confronted and shot dead by gunmen.

His widow added that the entire ordeal has taken a toll on her, since her other neighbours were also robbed on Sunday night. They have since fled the village.

She also wants a police outpost in the area.

Her husband was one of several persons, including policemen, armed gangs based in Buxton killed during the 2002-2003 crime wave.

Bandits on Tuesday attacked the Appanna family who lived at 280 Section 'B' Non Pariel and stabbed Davechand to death, while critically wounding his wife Hemrajie.

The wife yesterday remained under intensive care at the Georgetown Public Hospital Corporation, relatives said. She was chopped about her body and suffered a fractured skull when bandits attacked the couple around 05:00 hrs Tuesday.

Their daughter Aruna, 14, who hid under her bed during the 10-minute ordeal, is resting comfortably at relatives. Her family said they are monitoring her condition, but have not yet sought counselling for her.

The attack was the fifth on the family who were planning to shortly move into a house in nearby Enterprise.


Police yesterday said investigations were continuing and no one had been arrested.

Police said three armed bandits were seen outside the Appanna house while two others beat and robbed the couple before fleeing with $100,000 in cash.