Bandit shot after daylight robbery at store
-
fled scene on stolen scooter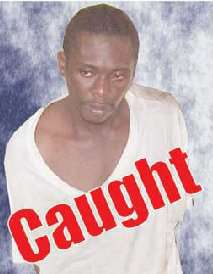 Police yesterday shot a bandit who stole a DVD player from the employees at the Budget Store in Camp Street and fled the scene on a stolen scooter.
The suspect, identified as a Laing Avenue resident, was nabbed in the vicinity of Le Repentir Cemetery at around 13:00 hours after falling from the scooter.
A release from the Guyana Police Force (GPF) said a mobile patrol in receipt of the report encountered the suspect and were forced to open fire after he resisted arrest.
He was wounded in the left thigh and was taken to the Georgetown Public Hospital for medical attention, where he is presently under police guard.
The suspect is alleged to have stolen the black motor scooter CD 974 from a female and used it in his escape bid from the store.
Employees of the store, which is on the ground floor of the Global technology building, said they noticed the suspect loitering outside shortly after noon. However, they thought he was waiting to collect someone from the school, which is offering classes during the August holidays.
The man subsequently left and, upon his return, entered the store and approached a male employee, Anil. The employee said that the man asked for the price of one 'Jwin' DVD Player valued at $20,000, then asked for a discount.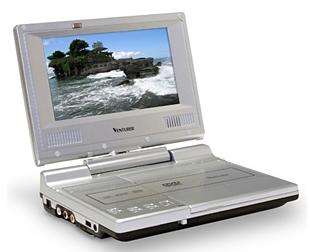 DVD Player
It was then that the 'customer' whipped out what was described as a handgun wrapped in cloth, pointed it to the employee, and fled with the DVD player.

A handgun
Anil said he immediately contacted the police by telephone. While Kaieteur News was on the scene, the employees received a call to inform them of his capture. The piece of equipment was recovered.
The robbery took place around 12:30 hours. Employees said that was the second time in two years that they had been robbed.
Meanwhile, Police in 'A' Division are investigating an alleged robbery under arms committed at the Cambo Chinese Restaurant, Regent Street , on Monday night.
Reports are that two men armed with handguns carted off $40,000 in cash in the robbery that took place at around 22:05hrs.
Enquiries disclosed that the two men entered the restaurant and relieved an employee, identified as Yang Mei Lan, and an elderly male customer of the cash.
The customer sustained a laceration to his head in the assault and was taken to the Georgetown Public Hospital for medical attention. The men escaped on a motorcycle which was parked a short distance away.
At least three other Chinese restaurants have been robbed this week.
Wednesday 08-10-2005