Shot watermelon vendor succumbs
Hampshire shooting…

- cops detain four, vow to break gang
Police have detained four men and are hunting for others in connection with the murder of 49- yr- old, Hansraj Samaroo, who was shot by bandits who invaded his squatting area home at Hampshire, Corentyne on Saturday night.
Samaroo, called 'Buddy', 'Long Hair' or 'Watermelon Man', was shot in the groin and died at around 13:30 hrs at the Georgetown Public Hospital Corporation despite an eight-hour operation to save his life.
The gunmen also beat Samaroo's 45-year-old wife, Kumarie Samaroo, before fleeing with $800,000 that they had taken from a wardrobe and $20,000 that they had taken from Samaroo's pockets after shooting him.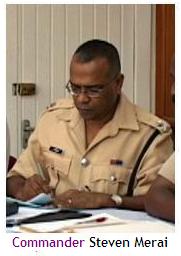 Commander of 'B' Division, Assistant Commissioner, Steven Merai and other officials told Kaieteur News yesterday that the police are making a special effort to catch the perpetrators.



They believe that the six gunmen who invaded Samaroo's home are also responsible for about five recent robberies in the Hampshire and Port Mourant areas.
"We are going to catch these guys and bring this gang to its knees", one of the officers said.
Merai disclosed that four suspects have been detained. The Commander gave the assurance that the police will not rest until the bandits are captured and the community is safe.
Recounting the ordeal yesterday, the victim's wife, Kumarie Samaroo, called Leila, said that she was in the bottom flat at around 19:30 hrs on Saturday when a man who was wearing a hat and had a handkerchief tied over his face suddenly appeared in front of her.
The woman said that the bandit pointed a handgun at her and ordered her to be silent.
He then ordered her to lie on the floor and take off all her jewellery and at the same time demanded her money.
However, Mrs. Samaroo said she started to shout, and the bandit began to beat her as he struggled to take off her jewellery.
She said that two other men made their way upstairs to her husband.
Mrs. Samaroo said that shortly after, she heard a gunshot.
According to the woman, she ran upstairs and saw her husband lying on the floor in a pool of blood.
One of the robbers began to beat her again while demanding money.
She said that she told them to check in her husband's pockets, in which they found about $20,000.
But the bandits continued to beat her while demanding more money. They then broke open the wardrobe in which the found about $800,000.
The bandits then retreated, scaling the fence and disappearing into the back lands.
Mr. Samaroo's eldest son, Ramnarine, said that he was at his house next door when the bandits exited his father's home.
The son and several residents started to give chase, but were forced to retreat when the bandits fired several shots at them.
Meanwhile, the wounded vendor was rushed to the New Amsterdam Hospital. He was then transferred to the Georgetown Hospital, where doctors performed emergency surgery to save his life.
Another son, Samuel Samaroo, a foreman at the Guysuco estate, told Kaieteur News he had just left home and heard the gunshots. He subsequently received a phone call 'not to go home because bandits are in their house'. But he hurried home only to be confronted with the sight of his father lying on the ground in a pool of blood.
His father was on life support and died around 13:30 hrs yesterday.
Apart from the two sons, the couple has two daughters. Ruth Samaroo, 25, lives in Trinidad and seven-year-old Alyah.

Inshan-Ally-found-dead Babita-Inshan-shot
Monday, March 29, 2010