Bandits slit a woman's throat and stabbed her on Friday night after they had gone into her Grove Squatting Area home where she runs a small grocery shop.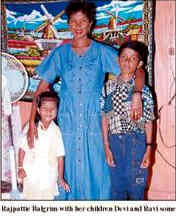 While the intruders took some money and jewellery, relatives of the woman are convinced that murder and not robbery was the true motive.



"This is not robbery; it is pure murder", Moti Anganoo, the brother of deceased mother of two Rajpattie Balgrim, told Stabroek News yesterday.
Balgrim, known as Leila, 47, of 193 Grove Squatting Area, was stabbed some eight times in her face and had her throat slit.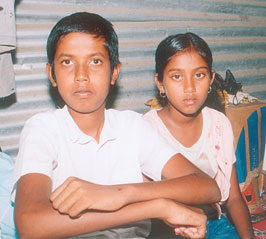 Right) Seventeen-year-old Govindarai and his 11-year-old sister Satrupa mourn the loss of their mother. Govindarai demonstrates how his hands were bound.
Her two children, Ravi, 17, and Devi, 11, were not harmed although the lad was subdued and tied up by one of the attackers.
International AIDS Conference
Police have since begun investigating the circumstances that led to the slaying of the Grove East Bank Demerara shop-owner whose body was left lying in her backyard.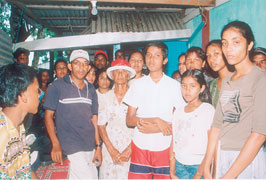 ( Left) Grief-stricken relatives of the late Rajpattie Jageswar converge at the scene of her demise to comfort her traumatised children. In photo is brother of the deceased Moti Anganoo (at right wearing cap) flanked by mourning relative
(Pictures by Cullen Bess-Nelson) - Guyana Chronicle
According to reports, Balgrim went into the backyard at around 9.40 pm to collect water from a black tank to soak some sennapod. She was setting the seeds when the men attacked her.
Stabroek News understands that her children heard a scream, and her son was coming out of the house to check on it when he was confronted by two men. He was tied up with a rope and instructed to sit quietly by one of the bandits, while the second man who was wielding a knife, demanded money and jewellery from his sister.
After initially claiming not to have any she then reluctantly showed the men where the takings from the day's sales could be found, and she also gave them some jewellery.
Once the men had collected these items they ordered the girl to sit quietly with her brother and await the arrival of their mother whom they promised to release.
After waiting several minutes the children began to get worried and decided to check outside only to encounter her dead body.
Balgrim and her children had only a short while earlier returned home from the mandir where they had gone to observe pre-Phagwah festivities.
A neighbour said that the police arrived to take statements some 40 minutes after he had called them. They also held one woman and three men who were at the scene and are believed to have been witnesses.
Relatives are of the view that the men planned the attack at least a week ago, since dogs in the neighbourhood, including one that belonged to the victim, were mysteriously poisoned at that time.
Anganoo could not think of any enemies his sister had, although he recalled she was involved in an ongoing feud over a property. He went on to say that the killers did not demand any more money than what they were given, and they made no attempt to search the two-storey home for anything else.
"They just polish off with that," the victim's brother said.
This is the second tragedy to have befallen the children as it was only about nine months ago on July 4 that they lost their father in a car accident at Happy Acres. (Oscar Clarke)